A gastric band procedure (laparoscopic adjustable gastric banding) involves placing a silicone ring around the top part of the stomach to create a much smaller pouch. This fills up with food more quickly, creating a sensation of fullness after just a few mouthfuls.
Gastric bands remain a popular choice for patients, especially those that do not want a permanent solution. The band can be adjusted and removed entirely to align with your weight-loss goals.
Your consultant can help you find the right weight loss surgery for you. You will discuss your goals, medical history and your current situation. The first step is to book an initial consultation.
All of our weight loss surgery packages include everything you need for your surgery, hospital care and 12-month aftercare plan. You can rest assured that everything you need is covered in one package price, and you won't have to pay more, no matter what. All-inclusive package price from:
Complete hospital stay and surgery
Unlimited follow ups for duration of package
Unlimited band adjustments for duration of package
Meal plan and 12 month support with your dietician
Unexpected events covered

Gastric Band Success Stories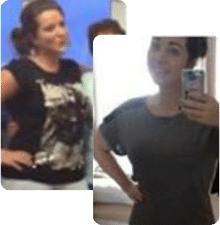 "I looked into surgery after trying all the diets under the sun. A friend of mine had it done before which helped make my decision! She made it look so easy! And to my surprise it was."
Gastric Band FAQs
What does gastric band surgery involve?
A gastric band procedure is surgery where a silicone ring is placed around the top section of the stomach and locked into place. This creates a smaller pouch at the top of your stomach. Tubing from the ring travels internally to a port which is placed underneath the skin which can be felt but not seen. This port allows saline to be injected into the tubing system which tightens the ring. The amount of saline that can be injected ranges from 8-11 mls, however each individual is unique and so is their ideal fill volume.
Gastric band surgery is usually done laparoscopically; a minimally-invasive keyhole procedure. As a result, you'll benefit from faster recovery and less time spent in hospital.
You'll still have the operation under a general anaesthetic, and your consultant will discuss the details of your procedure with you, answering any questions you might have ahead of the surgery.
How will a gastric band help me lose weight?
If you have struggled to lose weight through diet and exercise, a gastric band may help you lose weight. This procedure will help you control your portion sizes by making you feel much fuller after a small amount of food.
The benefit of gastric band surgery is that the band can be adjusted to let more or less food in depending on your weight loss needs.
Is a gastric band right for me?
Picking the right weight loss surgery for you depends on a few different factors that work in combination. The first thing to consider is your BMI. A gastric band is usually most appropriate for patients with a BMI of at least 30 with weight related conditions and who are fit enough for surgery.
The benefit of a gastric band is that it can be adjusted and even removed entirely in the future should you wish. Other, more permanent procedures might be a better option if you have a significant amount of weight to lose and you're looking for a long-term solution.
The best way to come to a decision about the right procedure for you, is to have a detailed and open conversation with your consultant. It's also important to choose a surgeon that offers the full range of procedures, so that you can end up with the option that is right for you, and not just the option the surgeon wants to do.
What is the recovery time for a gastric band?
You may be able to go home the same day as your procedure. It will take about two weeks to recover and you will need to take this time off work.
Is a gastric band safe?
As with any surgery, there are some risks. Whilst not common, complications such as bleeding, infection and blood clots are possible. Specifically to this procedure, there is a very small risk of infection or leakage of the band tubing. There is also a risk of slippage or erosion of the band ring. The port can sometimes move, however this risk is minimised by using non-absorbable sutures.
Further operations may be required to fix any problems that occur. These are normally covered within the surgery package for a period of time.
Your consultant will discuss all of the possible complications, side effects and other things to consider before you decide to have gastric band surgery.
Do you offer a gastric band adjustment /band fill/de-fill?
Yes, we do. We offer a stand-alone band adjustment service specifically designed for people who are out of the package with their original providers or who have had their bands overseas. We also look after our own bands who are out of package in the long term for a fee. This can be offered as a single payment or an unlimited package lasting a year.
You can read more on the dedicated gastric band adjustment page.
Will I feel the band tighten as it's injected?
Because the band sits internally surrounding the top of the stomach, there is no sensory mechanism in that area as we know it. Sensations arising from the gut are due to muscle movement or distension of the pouch. In other words, you won't feel the band tighten, but you will feel the effects of it tightening, otherwise known as "restriction".
My BMI is 31, I lead a hectic life and would like to control the overeating that comes with it. Would I be eligible for a band?
Weight loss surgery is only really considered for individuals with a BMI of 35 or above. However, recently due to the positive effect of weight loss on medical conditions such as diabetes, doctors have started considering performing surgery at a lower level of BMI. Gastric bands in particular are fully reversible with a relatively low surgical risk, which has prompted the Food and Drug Agency in the US to approve their use starting at a BMI 30. It is always best to consult a weight loss surgeon to address your needs and choose a weight loss operation which is suitable to your circumstances.
How much is it to have a gastric band removed, and can it be done as a day case?
Laparoscopic (key hole) removal of a gastric band can be usually performed as a day case. However the band may have slipped or caused a gastric erosion which can only be detected when the operation is performed. In this case, to allow appropriate healing, it is likely that you will need to stay in the hospital for a longer period of time. The cost of band removal with a one night stay is £3500. The price for day case removal is less than this.
I already had a gastric band fitted in 2010 but now require a fill and was wondering if it's something I could have done with you and how much it would be?
Yes, we are able to offer band fills or defills for £120 per session. We also offer a one year aftercare package at £600 with unlimited fills or defills for 12 months for those that have their band inserted overseas or wish to have the reassurance of unlimited access to a local band adjustment service.
I see you can have the gastric band operation in Kent, where do you hold your check up and and follow up appointments? Are they also in Kent?
All our clinics are Kent based and therefore surgery, as well as all follow up is offered within the county. You have a choice of Maidstone, Tunbridge Wells or Cranbrook clinics. It is also possible to have surgery at one clinic and the follow up closer to home at another clinic. This is best discussed with the team when you arrive for your appointment.
Can I have a balloon or band insertion two and a half years after having a gastric sleeve done?
The principle of a gastric sleeve is to restrict how much you are eating by creating a long narrow sleeve of stomach. Stretching it with a balloon would not help weight loss. Bands can be placed to surround the stomach pouch of a gastric bypass to enhance the mechanical restriction, however the same effect has not be theorised to help weight loss with a sleeve gastrectomy. Sleeve gastrectomies can be converted to a mini-bypass or full bypass if weight loss has plateaued. It is best to discuss all these options with the team providing treatment.
I've had a gastric band and would like to lose more weight, can I have a bypass?
Revisional weight loss surgery is possible and is sometimes intentional if performed in a staged manner to reduce weight gently, as the result of high-risk medical conditions or due to technical aspects. Individuals who have had previous weight loss surgery and successfully reduced their weight but would like to achieve more, especially if their weight has plateaued can undergo further surgery. Band and sleeve operations can be transformed into a gastric bypass, and individuals who have had bypass surgery can have bands around the stomach pouch. Please get in touch with the team for clinical review and advice.
We aim to provide you with the very best clinical care and outcomes possible, as well as ensure you have a hospital experience that's relaxing, reassuring and comfortable.
To help illustrate what you might expect as a weight-loss surgery patient, we've put together a step-by-step guide