A gastric bypass results in a combination of food restriction and impaired food absorption to assist with weight loss. This procedure is very effective and offers long term success with the greatest and most sustained weight loss.
A gastric bypass procedure is a long-term, permanent solution and can offer the most drastic weight loss. Usually, this procedure is appropriate for patients with a very high BMI and co-morbidities.
To explore various weight loss options to find out what is right for you, book an appointment with a consultant. In the initial consultation your weight loss goals, current situation and medical history will be discussed in depth.
All of our weight loss surgery packages include everything you need for your surgery, hospital care and 12-month aftercare plan. You can rest assured that everything you need is covered in one package price, and you won't have to pay more, no matter what. All-inclusive package price from:
Complete hospital stay and surgery
12-month consultant follow-ups
Meal plan & 12-month dietician follow-ups
Unexpected events covered

Gastric Bypass Success Stories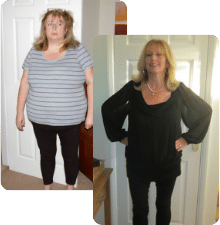 "My family and friends can not believe the speed of the weight loss, I just wish I had decided to do it years ago, I am so much happier and feel amazing. I am enjoying my life again."
Gastric Bypass FAQs
What does a gastric bypass operation involve?
A gastric bypass involves using a stapler gun to create a small pouch of stomach. Creating a small pouch limits the amount of food that can be eaten. This pouch is then connected surgically to a length of diverted bowel, bypassing the rest of your stomach. This will impair food absorption and therefore calories.
A gastric bypass is done laparoscopically; a minimally-invasive keyhole procedure. As a result, you'll benefit from faster recovery and less time spent in hospital.
You'll still have the operation under a general anaesthetic, and your consultant will discuss the details of your procedure with you, answering any questions you might have ahead of the surgery.
How will a gastric bypass help me lose weight?
The combination of portion control and decreased food absorption means that weight loss is triggered immediately after surgery. This will slow down after several months and plateaus at 18-24 months after surgery.
You'll also have fewer food cravings and you will feel full much quicker. This is because as a result of your gastric bypass operation the chemical signals sent from your bowel to your brain are altered.
Is a gastric bypass right for me?
If you have tried losing weight in the past through exercise or diet but have been unsuccessful, weight loss surgery may be the best way to lose weight. A gastric bypass is usually most appropriate for patients with a BMI of at least 35 who also suffer from conditions such as diabetes or high blood pressure.
The best way to come to a decision about the right procedure for you, is to have a detailed and open conversation with your consultant. It's also important to choose a surgeon that offers the full range of procedures, so that you can end up with the option that is right for you, and not just the option the surgeon wants to do.
What is the recovery time of a gastric bypass?
Usually patients stay two nights in hospital after their operation. You'll be prescribed anti-acids and blood thinners for 5 days from your point of discharge, and you can usually return to work in two or three weeks. Longer term, you'll be given a 12-month aftercare package that includes follow-up appointments with your surgeon and dietician. You will also need to take a multi-vitamin tablet on a daily basis.
Is a gastric bypass safe?
As with any surgery, there are some risks. Whilst not common, complications such as bleeding, infection and blood clots are possible. Specifically to this procedure, a very small risk is leakage from the staples used.
Some patients experience dumping syndrome. Dumping can be caused by food being released too quickly or due to rapid hormonal changes within the body. Symptoms include feeling sick, palpitations, sweating, bloating, diarrhoea, dizziness and fatigue. Laying down after eating can help.
Nutritional deficiencies can also occur which is why taking a multi-vitamin tablet is very important.
Your consultant will discuss all of the possible complications, side effects and other things to consider before you decide to have gastric bypass surgery.
I've had a gastric band and would like to lose more weight, can I have a bypass?
Revisional weight loss surgery is possible and is sometimes intentional if performed in a staged manner to reduce weight gently, as the result of high-risk medical conditions or due to technical aspects. Individuals who have had previous weight loss surgery and successfully reduced their weight but would like to achieve more, especially if their weight has plateaued can undergo further surgery. Band and sleeve operations can be transformed into a gastric bypass, and individuals who have had bypass surgery can have bands around the stomach pouch. Please get in touch with the team for clinical review and advice.
We aim to provide you with the very best clinical care and outcomes possible, as well as ensure you have a hospital experience that's relaxing, reassuring and comfortable.
To help illustrate what you might expect as a weight-loss surgery patient, we've put together a step-by-step guide